HIGHLY EXPERIENCED ATTORNEY IN DOMESTIC VIOLENCE AND SEXUAL ASSAULT IN SANTA MONICA, CA "THE DV PRO"
What is Domestic Violence or DV?
Domestic Violence also known as "intimate partner violence" is becoming more and more mainstream especially in light of the recent defamation case of Johnny Depp vs. Amber Heard. It is not new to Victoria, however. Victoria has done a multitude of domestic violence cases from felony to misdemeanor or domestic battery also known as a 243(e). Domestic violence generally begins with a fight over something trivial. You and your partner are out for a romantic dinner. He gets up to go to the restroom and you grab his phone. You see that he has made comments on a beautiful woman's instagram page. Notably, (after several drinks usually), a fight ensues. You and your partner end up outside fighting over the phone which you have thrown onto the grass nearby. Your partner grabs your arm and you slap him. There are witnesses. Law enforcement is called and the two of you are interviewed in separate patrol cars. Most people would give a statement under these circumstances even though they know it's not in their best interest to do so. And usually a witness or two will be interviewed as well. This would probably be classified as a misdemeanor domestic violence (it can also be filed/charged as a felony.) The person who is said to be the aggressor will be taken down to the station and booked. This is where Victoria comes in. Generally, you have 48 hours until arraignment and depending on your record, you will most likely be released on your own recognizance. But what now? Do you want to be known as a "wife beater?" or a "man hater?". No! You need an attorney who is going to get to the bottom of it. Victoria has bondsman on stand by if. you are taken into custody and want to be bonded out.
What Do the People Have to Prove in a Domestic Violence Case?
THE MAIN ELEMENTS (LIKE INGREDIENTS) ARE:
Defendant willfully inflicted corporal injury to victim.

The Victim was either:

Defendant's spouse or former spouse;


Person with whom he or she is or was cohabitating with;


Fiancé or ex-fiancé, or someone with whom the offender has, or previously had, an engagement or dating relationship;


The mother or father of his or her child;

Corporal (bodily) injury resulted in a traumatic condition. A traumatic condition can also be emotional.
IF ALL THREE ELEMENTS ARE NOT MET BY PROOF BEYOND A REASONABLE DOUBT, THEN THE PEOPLE HAVE NOT MET THEIR BURDEN AND CANNOT WIN.
Victoria knows the in's and out's of domestic violence, hence, she knows what else is essential to prove the case (to be discussed further upon retention.)
What's Next?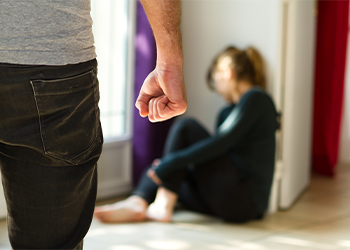 Get in touch with Victoria to discuss how your case will be handled. She may be able to obtain a "no-file" in your case and has done so for many clients. If not, the next step is the arraignment. That is where Victoria makes her motion for release on your own recognizance (if you didn't bond out,) enters a plea of not guilty, and obtains the discovery for the next court date which is generally a pre-trial. Victoria knows her way around DV and will attend court even when you can't (under 977(a) authority) if it is charged as a misdemeanor. You will have peace of mind knowing that your in the hands of someone who knows the ins and outs of DV and exactly what to do step by step. If the domestic violence is charged as felony, Victoria has dealt with many of those too and will handle it. Victoria will also obtain any of the bodyworn video worn by law enforcement and any video from the incident and/or witnesses who have taped parts of the incident with their cell phones. Everyone has a phone nowadays, and everyone tapes everything! Not to worry, Victoria will obtain it and go through all of it. She will work with an investigator if needed to interview any witnesses and the complaining witness (or the CW) aka the alleged victim.
You Will Never Be Left in the Dark
You will never be left alone to try and figure out the complications of a criminal protective order, dealing with a case, and your domestic partner whether or not you are still together. Victoria will guide you and be your advocate at a time in your life that can be overwhelming and scary. Your reputation is everything and Victoria knows this. She has had great success with both felonies and misdemeanors and has also obtained numerous "no-files." Call her today to discuss your issues, believe me, she understands!
Accusations of Sex Crimes
Has someone accused you of rape? Are you a teacher that has been accused of doing something illegal to a student? Or are you a student who has been accused by another student of rape or inappropriate touching? Here's what is on-trend: Students at undergraduate colleges, graduate colleges, and even post-doctorate colleges having a little too much to drink and using poor judgment. We will walk you through every step of the process. You are entitled to a hearing and Victoria will prepare you for that. An investigator will be assigned to your case at no cost to you and will investigate the claims and allegations. Victoria will determine how serious the evidence against you is and will prepare you for the hearing from beginning to end. She will write questions for you to prepare you and will be your strong advocate to prevent you from a suspension from school or worse.
Felonies
Being convicted of a felony has life-changing consequences. You may spend a long time in prison. Even if you avoid prison, a felony conviction can stay on your record forever. It makes it difficult to get a job. Huge fines are often imposed that are difficult or impossible to pay. Many felonies are "wobblers," meaning they can be charged as a felony and then reduced to a misdemeanor or dismissed entirely. With the right advocate, Victoria knows how to make this happen and has made it happen throughout her career.
In Santa Monica, some courts under the Covid guidelines will allow the attorney to appear for you. Victoria can appear for you pursuant to 977(b) so that you don't have to miss work, this takes so much pressure off of you, not having to wait all day in court for the discovery or other items in evidence that is in the prosecution's possession that Victoria will obtain on your behalf.
The People have the burden of proof beyond a reasonable doubt in a criminal case which means they have to prove every single element of the crime charged.
Theft Crimes/ Grand Theft
If the amount stolen is over $950, it will be charged as grand theft, a felony. CAUGHT SHOPLIFTING? DON'T BLOW IT OFF! Petty theft is merchandise stolen <$950, also known as a PC 484. It is priorable and involves moral turpitude or dishonesty–nearly impossible to expunge and employers will ask you about this on your application. We at the Law Offices of Victoria Clemans have handled many theft cases both felony and misdemeanor, including but not limited to: robbery, burglary, looting, petty theft, grant theft, taking a vehicle without consent. Contact us today in Santa Monica, California, to set up a free 15-minute consultation with Victoria.
Misdemeanors
NO TIME FOR COURT? LET US GO TO COURT FOR YOU! Pursuant to 977(a), Victoria can appear for you and give you your results as soon as she is done with the hearing. This saves you hours of sitting around court. An offense is deemed a misdemeanor when it carries a sentence of one year or less, or 6 months probation and a fine ranging between $1,000-$10,000. The legislature has changed over the last two years since George Gascon was put into office so many cases are available for Judicial Diversion or Mental Health Diversion.
It is very serious to be charged with or accused of misdemeanors in Santa Monica, CA. Attorney Victoria Clemans has had great success as a California Criminal Defense attorney – She is a misdemeanor and felony defense lawyer specializing in domestic violence and sex offenses.