WHAT SHOULD YOU DO IF YOU RECEIVE A LETTER FROM THE DISTRICT ATTORNEY OR CITY ATTORNEY'S OFFICE?
Please Read Carefully, This Is More Common than You Think!
You were involved in an incident several months ago and completely forgot about it, or, you were involved in an incident several weeks ago and are completely freaked out about it and wonder what happened… What happened is that law enforcement was doing their investigation and they took it to the district or city attorney and decided to file a case against you!

DO'S AND DON'TS
DO NOT!
Throw the Letter Away.

Ignore the Letter.

Give the Letter to A Friend to Hold Onto.

Do Not-Call the District Attorney to Ask for Advice!

Do Not-Call the City Attorney to Ask for Advice!

Do Not-Call the Detective to Ask Why He/She Turned It Over to The DA/CA!
DO: Call Victoria or An Attorney You Trust, Here's Why:
If you are notified that a case has been filed against you and you ignore it, a warrant for your arrest will go out and if caught you will be taken into custody and your car taken into impound if you don't have a passenger that can hold onto your car. Law enforcement can run your plates if they want and if they find a warrant on your record, you will be taken into custody. The minimum bond will be between $10,000-$1,000,000 dollars, that is why you need an experienced attorney like Victoria who knows the loopholes of the law and will advise you step by step.
WHAT IS THE DIFFERENCE BETWEEN AN INFRACTION, A MISDEMEANOR AND A FELONY?
An infraction is a moving violation generally but can be a misdemeanor that is later reduced to an infraction much like a felony can "wobble" down to a misdemeanor. Not all crimes are wobblers, and not all misdemeanors can be reduced to infractions.
Infractions generally involve a fine or fee and no jail time and do not show up as a "crime" on your record.
Misdemeanors range from no jail time up to one year and a fine of zero to $10,000.
Felonies are the most serious obviously and carry prison or jail time especially if you have a record.
Example:
Jonathan takes a car without permission under Vehicle Code 10851, which is a wobbler.
The police pull him over and search the vehicle pursuant to search incident to lawful arrest or SITLA. There is a passenger riding in the front seat. Both are ordered out of the car.
During the search the police find a weapon that was tossed under the car. The cops don't know who tossed the gun. The two men are taken to the station and Jonathan claims possession of the gun. (This is one of the reasons you don't talk to the cops without an attorney present, the cops know how to obtain a confession and are well versed in doing so.)
Because Jonathan has been to prison one time in the past, he is charged with ex-con with a gun, a felony and the VC 10851 is also charged as a felony.
Depending on negotiations with the District Attorney, there is a chance that Jonathan will go to jail since he confessed to having possession of the weapon (remember, the cops found that someone had tossed it under the car.)
A common charge that is often infracted is a PC 415 (disturbing the peace) which is a misdemeanor but can be infracted with a clean record and a good lawyer!
Call Victoria today to discuss your case and see what category you fall under, if any!
WHAT ARE MY MIRANDA RIGHTS?
Your Miranda rights stem from a case called Miranda v. Arizona, a Supreme Court case (1966) with a 5-4 decision. The holding was that an arrested individual is entitled to rights against self-incrimination and to an attorney under the 5th and 6th Amendments of the United States Constitution.
In 1966, the Supreme court did in fact rule that a detained criminal suspect prior to any police questioning must be informed of their constitutional right to an attorney and against self-incrimination.
The rights are as follows: (word for word)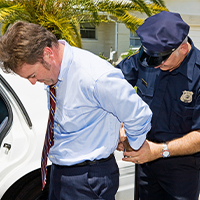 You have the right to remain silent;
Anything you say can be used against you in a court of law;
You have the right to have an attorney present;
If you cannot afford an attorney, one will be appointed to you free of charge;
Miranda comes into play when law enforcement questions a detainee or arrestee and fails to advise the individuals of their rights;
The consequences are that if you give a statement without a Miranda warning, the "confession" or "statement" can and will be suppressed as evidence against you at trial or any other legal proceeding.
It is your 5th Amendment right and a bright line rule regarding statements given to the police in the absence of Miranda.
The cops usually carry a little Miranda card in their pocket to read off to the person arrested so that they don't forget, or if they leave out one of the warnings, it will be deemed invalid.
All of the warnings must be given, or it is not a valid Miranda warning.
Many people spend all their money on a bondsman and then have no money for an attorney.
Don't fall into this trap.
Victoria will try to get you released on your own recognizance and if you do need a bondsman, she will get you one at a fraction of the cost.
For example, she spoke with a client recently who paid the bondsman $15,000, which was 10%. That is extremely high because most bondsman don't charge the full ten percent in this economy. Some are going as low as 3%.
In any event, Victoria has worked with the same bondsman for years, and he won't charge you anywhere near that amount!
Contact Victoria today for more information on your bond, what you were quoted. She will personally guarantee that she will get you a better rate.