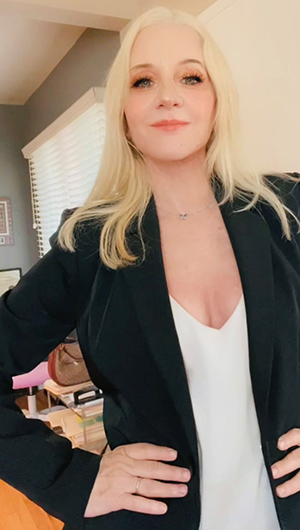 Victoria L. Clemans
Attorney at Law
Victoria is an experienced litigator and has done numerous trials with winning results. She has worked in the courts for almost 20 years, helping people solve their legal issues.
Victoria is not afraid of zealous advocacy for her clients. For example, just last year, Victoria did a seven-week jury trial on a sexual assault case, which included two counts of sexual assault and three counts of domestic violence along with a false imprisonment charge and petty theft. Her client's former attorney did not go through the plethora of evidence. Victoria makes it a point to go through every piece of evidence and fight for obtaining the evidence because "the devil is in the details." Victoria and her team won the case against two prosecutors! (And the prosecutor in the black robe...) But the good news doesn't stop there.
Victoria usually gathers a team of experts and investigators when needed to get to the bottom of the issues in the case and to find the weaknesses in the people's case. Together, they work tirelessly to get the best result possible, which sometimes includes earning a dismissal through judicial diversion if trial is not something the client wants to do. After all, it is vigorous, exhausting, and usually involves the client taking the stand in their own defense (something Victoria will help you with if needed), and it is always a risk because the client is then subject to cross-examination.
Victoria has handled over 2,000 criminal cases and specializes in domestic violence and sexual assault. Victoria has also taken on Title IX cases. With her background in criminal defense, it is the perfect recipe for a winning result.
Call Today for A Free 15-Minute Consultation!
When you hire Victoria, you get her, not another attorney. She is a one man show and will not pass you off to an associate or subordinate. When you meet with Victoria, she will be the one handling your case from start to finish. She will be with you every step of the way! Victoria understands this is a stressful time for you and will be accountable to you and mindful of the stress you are under. She is accustomed to the time it takes to devote to each and every client and she does so with care and precision.
Meet Victoria...
SHE ANSWERS THE PHONE!
Why waste your valuable time trying to reach lawyers through 18 firewalls, a dozen receptionists, and bots via "chat texting" that never know what you're talking about, or an answering service. Lastly, a voice tree that asks you to "press 7 for Bob Smith."
Once you are a client, Victoria will give you direct access to skip all of the red tape and the run around that goes on with most lawyers who are too busy doing other cases to pay attention to your case. Speak with an authentic, skilled lawyer today by scheduling your free phone consultation with Victoria.
Born to two Stanford graduates, Victoria is a native of California and the middle child of two siblings. She began her journey to law in in 90's, after meeting her mentor, Ted Cohen, who taught her the basics of running a law practice, how to do legal research and deal with clients, and he encouraged her to go to law school.
She started law school in 1997 and am jured torts and criminal procedure (American Jurisprudence Awards.)
Victoria has always been independent, hardworking, and "book-smart/street smart." Growing up with a single mom, who was an English teacher has made her the resilient, smart lawyer that she is.
Victoria does not back down from a challenge, rather she moves towards it.
She is a skilled communicator and lawyer and you won't be talking to a bot or a chat when you call her.
Victoria believes that when charged with sex crimes or domestic violence (or any crime), it is better to have a woman like Victoria that has your back. She is intuitive and knowledgeable in practice and continues to grow each year. This June will be her 20 th year as an attorney and she has truly found her passion.
As a native Californian, Victoria knows the courts all the way from the Antelope Valley to the Southbay. She has been working these same courts since 2003.
Victoria has done mediations and fee arbitrations with LACBA (the Los Angeles County Bar Association) on a pro bono basis when needed.
Her prices are reasonable and she is always willing to negotiate or help you find a bondsman that will charge you 5% or lower. They have worked together for 10 years and he is very reliable, if you need a good bondsman.
Victoria enjoys working with people and understands the gravity of a criminal charge and how it can impact your future. She works extremely hard to obtain the best result and to avoid jail or prison at all costs.
Give her a call today, you've got everything to gain, and everything to lose if you don't choose the right lawyer. If Victoria thinks you aren't a good match, she will tell you. she has always been outspoken and believes that earning a client's trust is tantamount to the attorney client relationship.
Bar Admissions
The State Bar of California in Good Standing for 19 years.
Education
J.D. - University of West Los Angeles School of Law, 2000

B.A. - City College of Long Beach 1996

Clerked for Judge in Van Nuys during law school Dept. Z.
Awards
American Jurisprudence in Torts and Criminal Procedure

Voted America's Most Honored Professionals, 2019

Top Women's Attorney by "Los Angeles Magazine," 2017

Top Attorney's Rising Stars, "Los Angeles Magazine," 2016

Constitutional Rights Foundation, 2007–2013

CRF Award for Volunteer Scorer Van Nuys Court, 2008

Bancroft Whitney Award, 2005C